Helsinki, Finland – 13 January 2012
Micro Analog Systems Oy today announced the availability of the EB6180B1COB module for Time Code Reception (RCC).
The new tiny time signal receiver module comprises of a ferrite antenna and a small PCB that includes a MAS6180B1 AM receiver IC accompanied with necessary filter crystal and capacitor components.
The MAS6180B1 AM receiver IC converts the time code signal into series of digital pulses which can be directly processed by an appropriate digital circuitry such as micro controller unit (MCU). From the signal both time, date and daylight saving information can be retrieved. The use of a ready made module gives our customers a cost effective solution with an optimized RF design. The included tuned ferrite antenna increases the value of this module even further.
Different versions are available for the 77.5 kHz German DCF77 time signal and the 60 kHz US WWVB, British MSF and Japanese JJY60.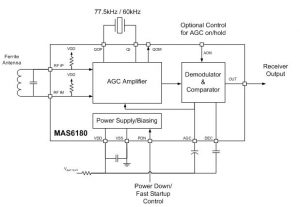 FEATURES
Small size, 21.4 x 25.0 mm
60×10 or 100×10 mm ferrite antenna
Low operating voltage, 1.1V – 3.6V
Low current consumption

Typ 42uA during reception

High sensitivity
The EB6180B1COB modules are available with an MOQ of 100 modules. Other antenna sizes can be arranged. For further information and samples please contact Micro Analog Systems Oy.
Download <press release>